Hi Trendgrovers,
As you could have probably guessed this weeks Funday Monday segment is about Shoes! I know that I am definitely not the only woman on this earth who has an immense weakness for shoes. I am pretty sure that I am not the only person who can say that she has at least one pair shoes for every occasion (weddings, christenings, funerals, races, cocktail parties etc.). We see a pretty pair in a shop window that will match an outfit somewhere in our cupboard and we just have to have them. They were essential right? Unfortunately they probably weren't.
I know that I have many pairs of shoes I have never worn or that I have forgotten that I even had. Some pairs have just gone out of fashion and I'm are afraid to wear them out ever again. Well I have a solution for those unused, unwanted or forgotten pairs of shoes. Recycle!
When people think about recycling they think of bagging them up and sending them to a charity shop or something like that, but that is not the only way to recycle our old pairs of shoes.
In the past few years DIY individuality has been making a fantastic comeback and this is what I plan on doing with my old pairs of shoes.  A quick google images search gave me thousands of ways to jazz up my unused pairs of shoes. Here are just a few that I found intriguing.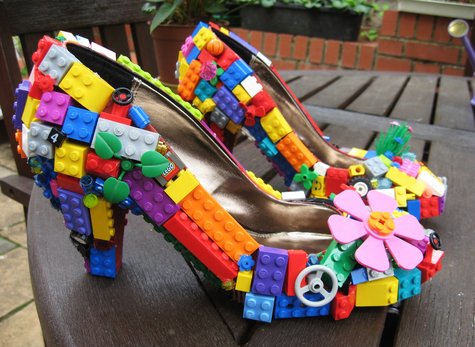 Images sourced from:
http://www.chickadvisor.com/chickchat/fashion/diy-decorate-your-high-heels/
http://www.henryhappened.com/25-diy-shoes.html
http://alldaychic.com/flower-heels-diy/
http://www.outsapop.com/2011/07/shoe-inspiration-zack-lo.html